TGIF! Game Updates for March 20, 2020
Happy Friday everyone!
Welcome to the first TGIF of our (hopefully brief but nonetheless important) work from home period. In case you missed last week's update, Kano is working the next two weeks at home in light of the ever changing landscape around Covid-19. 
We hope everyone out there is practicing social distancing and keeping those surfaces sterilized and hands washed! Let's jump into what's going on with the games this past week:
In Game Events!

The Midgard Serpent returns with a rejuvenated Raid Shop! From now until noon on March 29th, earn Raid Tokens when you battle this trafficking organization to spend on special Mythic items and Raid Loot Cases not available anywhere else! 
We've also added the ability to filter Raid Bosses for all games! For more info on the Saint Patrick's Day Raid Event or Raid filtering, check out our walkthrough here (https://www.kanoplay.com/blog/viking-clan-raid-shop-walkthrough.html).
In Mob Wars: LCN we turned Practice Mode back on for Battle Royale and added in more achievements for winning! Get in there and sharpen your skills, you never know when they might be needed...
Crafting is also out for the Nassau Location for Pirate Clan, which ties off the releases for that Location.
Helpshift Migration and Forum Update
A final reminder that we are switching over to using Helpshift for all your Support needs very soon! All games and networks are already redirecting there, but for those who use our old web portal for Kayako this is the very last opportunity to log in there and save anything you want to save.
For the forums, the sunset date has been moved to March 23rd instead of the 22nd. The forums will be preserved as they are, but won't permit any more posting of threads or replies past that date.
Desktop Gifting Update
To round out the week, we have an updating to how Gifting functions on the desktop version.
When you select "Gifts" from your Mob (or what have you, depending on the game) page it will now automatically drop you on the Received tab. 
You can now also manage your Gift Wishlist directly from the List tab. Clicking the "Manage My Wishlist" button on your profile will drop you on this page as well instead of opening up a new window.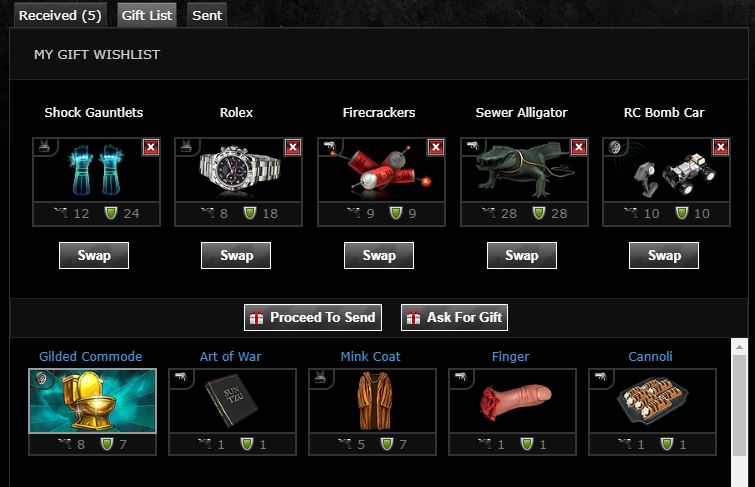 Next Week's Admin Blitz Event

Next week, we'll be holding an Admin Blitz in Pirate Clan! If you're around on the following date, make sure to drop by and nab some sweet cash off of some Kano folk:
Tuesday, March 24: Pirate Clan server 1 @ 3:00 pm Pacific and Pirate Clan server 2 @ 3:30 pm Pacific.
Frozen User Count:
5
Lame Joke of the Week:
What's the difference between a Zippo and a hippo?
One's really heavy, and the other's a little lighter!