TGIF! Game Updates September 23, 2022
Happy Friday, players! 

We hope everyone has been having a lovely September so far. We definitely are feeling the autumn vibes here in Victoria. There is lots to cover this week, so without further ado let's jump in!
In-Game Events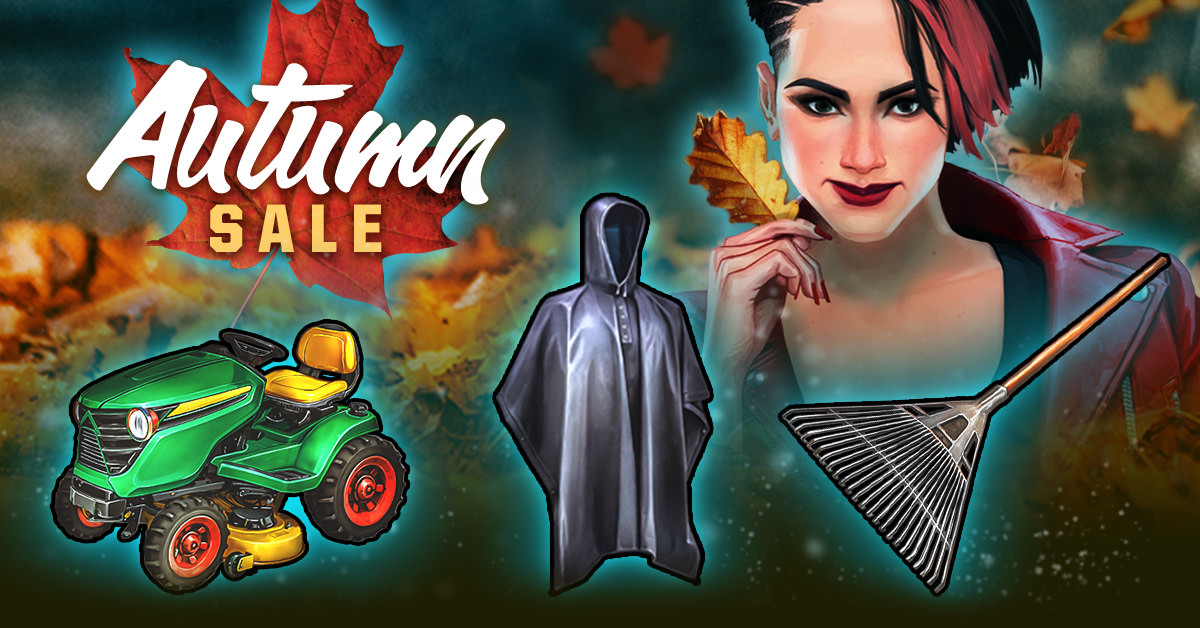 The leaves must be changing colour because
Mob Wars LCN
players the Autumn sale has arrived! These deals will only be available until tomorrow morning (Saturday September 24th at 9:00 AM Pacific), so hurry and check out the exclusive bundles right now! If you live in B.C. like us we can't recommend the
Autumn Rain Coat
enough for those wet fall days. 

This week saw the arrival of our brand new Raid Fusion event across the Mob Wars: La Cosa Nostra servers! Along with that comes the fierce new Raid Boss, the Extortion Racket. This fierce duo has ambushed you and with their piercing stares, sharp attire and intimidating presence, you can tell it's not going to be an easy fight - Take on this brand new raid boss duo today and participate in the Raid Fusion event.
During the Raid Fusion event, Mobsters will take actions against Raid Bosses in order to earn a special new resource: Components! You'll use those Components along with item drops from this Raid Boss to fuse powerful Premium items. Every Premium item you fuse during the event will score you points on a server-wide Raid Fusion Leaderboard; the higher you finish, the better the rewards! Read up on the full details in our Raid Fusion FAQ article here:
https://kano.helpshift.com/hc/en/3-mob-wars-lcn/faq/606-raid-fusion/?p=all

We also had an introduction and walkthrough of the event on our most recent livestream! You can watch that anytime here on our YouTube channel:
https://www.youtube.com/watch?v=QuE_du3AiwE

Speaking of Raid Fusion: the Zombie Slayer Raids have finished up today, meaning that all competitors can now collect their Achievements and rewards by heading to their Raids page.
Listed from first place to third, the winners are:
Server 1: The Knight of Revenge, TGSH, Generic player name 1
Server 2: BIG SHOUTOUT TO KANO FOR THE AWESOME RAID EVENT, Kraz, John No Mercy
Kongregate/Armor Server: Mattzland Crazy Ox, Gunnislake Bey, Trunkz686
A hearty congratulations to all of our top Zombie Slayers in the Raid Fusion event! We hope you had fun taking on the fierce Cult of the Undeath. Till next time!
New YouTube Video
This week we released a brand new video to our Mob Wars LCN Youtube page - "What Happened to Mafia Wars?" 

We have gotten questions in the past about what happened to Mafia Wars and even some players getting our game mixed up with it. Join Ben as he gives a brief history about that game and how Kano ties in - https://www.youtube.com/watch?v=1nYI6CMJJyo
Discord Livestream
Thank you to everyone who joined us today for our Discord livestream! We did twice the FP giveaways, so big congratulations to those who came out, participated and ended up with a kickstart to their weekend.

We hope you'll join us again this week on Friday September 30, 2022 for our next Discord Livestream! As always, we'll be going live at 12:00PM Pacific Time.

We have lots of really cool things planned for the future of our Discord space. You can join our growing Discord community by clicking on the link here - https://discord.gg/prmJzPEXfT 
Admin Blitz Event

Next week we'll be hosting an Admin Blitz event in Viking Clan! If you're around on the following date, make sure to drop by and nab some sweet cash off of some Kano folk. We love chatting with players during these events, so watch out for the group chats that get posted beforehand and remember to bump up those Admins Killed/Listed stats. We hope to see you there on:
Tuesday, September 27th - Viking Clan Server 1, Server 2, and the Kongregate & Armor Server @ 3:00 pm Pacific.
# of Accounts Penalized/Suspended:
5
Lame Joke of the Week: 
What do you call a dog magician?
A labracadabrador!