TGIF! Game Updates for September 9, 2022
Happy Friday, players! 
We're already more than a week into September, which means the new Raid Fusion event is also over one week old. We've got updates about Raid Fusion and all the other wonderful events hitting our servers this week; keep reading to get all the details!
In-Game Events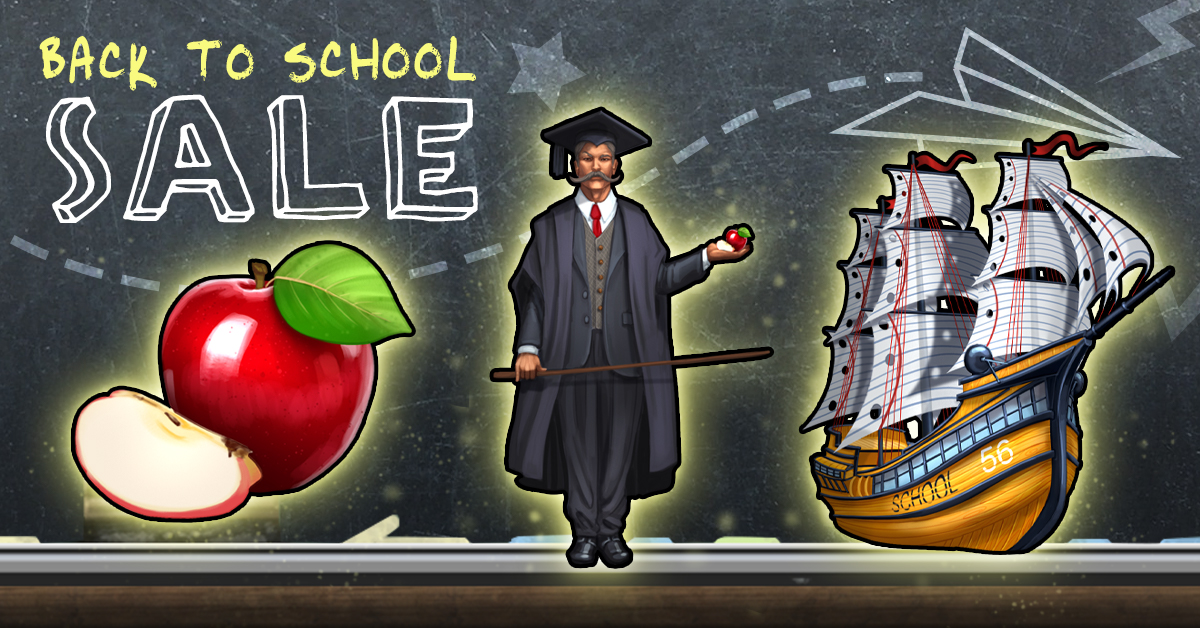 Pirate Clan players may want to study up before diving into the new Raid Fusion event. Luckily, they can start by taking advantage of the Back to School Sale! Players only have until tomorrow morning (Saturday September 10th at 9:00 AM Pacific) to get their hands on some brilliant deals. Be sure to pick up a Teacher Treat so you can stay on your Pirate Teacher's good side!
As mentioned, our brand new Raid Fusion event has recently landed on the Pirate Clan servers! Captains will have to come up with some clever strategies if they plan to outwit The Gentleman Pirate Raid Boss. This villain may seem charming at first, but he's here to steal your loot, raid your shores, and look dashingly handsome the entire time! You'll need to assemble your best fleets in order to sink his ships and collect your plunder.
In fact, during the Raid Fusion event Pirates will take actions against Raid Bosses in order to earn a special new resource: Components. You'll use those Components along with item drops from this Raid Boss to fuse powerful Mythic items! Every Mythic item you fuse during the event will score you points on a server-wide Raid Fusion Leaderboard; the higher you finish, the better the rewards! Read up on the full details in our Raid Fusion FAQ article here:
https://kano.helpshift.com/hc/en/6-viking-clan/faq/605-raid-fusion/

We also had an introduction and walkthrough of the event on our most recent livestream! You can watch that anytime on the Mob Wars LCN YouTube channel:
https://www.youtube.com/watch?v=4SEx67FkZB4

Speaking of Raid Fusion: the Viking Clan Raids finished up today, meaning that all competitors can now collect their Achievements and rewards by heading to their Raids page. On the Raids page Vikings can also admire our Raid Fusion winners, who each earned bonus Favor Points, Skill Points, and unique overlays for placing on the podium! 

Listed from first place to third, the winners are:
On Server 1: Gearoid Gein, PimpDaddyDuke The Mediocre, and Imaho.
On Server 2: Uhtred Son of Uhtred, Elias The Red, and GATMAN.
On Kongregate & Armor: Cosmic the Axe Wielding Homicidal Maniac, Atmar Thorar, and Gerriattrix.
A hearty congratulations to all of our top Vikings! 
Meanwhile, Mob Wars LCN is already in the midst of the Syndicate Quests event, which runs through to the end of the weekend. All participating Syndicate members will earn Loot Cases from completed Quests, while Medium and Hard Quests can earn contributors bonus Favor Points! Zombie Slayer's Faction Wars are also happening this weekend, as are the Guild Wars in Viking Clan. Login now to claim the top spot in your division!
Discord Livestream Friday!
Next Friday, September 16th (at noon Pacific Time), you'll be able to join the Player Success Team over on our Kano Community Discord server for another weekly livestream. We'll be going over some highlights from the week as well as spinning our lucky wheel to give away exclusive items and bonus FP or UNC! We've been having a blast with these streams and it's a great way to kick-off your weekend.
You can join our Discord community by clicking on the link here - https://discord.gg/prmJzPEXfT 
Admin Blitz Event

Next week we'll be hosting an Admin Blitz event in Zombie Slayer! If you're around on the following date, make sure to drop by and nab some sweet cash off of some Kano folk. We love chatting with players during these events, so watch out for the group chats that get posted beforehand and remember to bump up those Admins Killed/Listed stats. We hope to see you there on:
Tuesday, September 13th - Zombie Slayer Server 1, Server 2, and the Kongregate & Armor Server @ 3:00 pm Pacific.
# of Accounts Penalized/Suspended:
10
Lame Joke of the Week: 
Where do dads keep all of their dad jokes?
In an online dad-a-base.