TGIF! Game Updates for September 25, 2020
Happy Friday everyone! Autumn hit the Kano HQ hard this week with a blast of heavy rain. As the days get shorter and the weather gets colder and wetter, that's all the more reason to stay inside and enjoy some games!
Let's go over what's new this past week in game updates:
In-Game Events

Take advantage of these limited time deals and get your hands on some Legendary Items.
You also get FREE Limited Edition Items with the purchase of select FP packs!
- Buy the 105/155 FP Pack and get one Item
- Buy the 275/400 FP Pack and get a Full Item Set
- Buy the 560 FP Pack and Two Full Item Sets!
...and there's much more! Log in to see your Special Offers!

The Raid Shop roars back into Mob Wars: LCN! Burn rubber with the Drive-By Raid Boss and earn Tokens. For every 1,000 actions completed, you will earn a Raid Token which can be used to exchange for special items in the Raid Shop. The Raids themselves will end on October 2, 2020, but the Shop will be up until October 9.
As a change with this Raid Event, and carrying over to the other games, all Raid Bosses will be free to open going forward. Simply collect a Raid Pass and open a Raid! 
Raid Keys have also been retired as part of this change as with free Raids they are now redundant.
Mobile UI Tweaks on the Raid Boss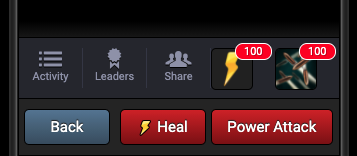 A quick fix to end the week: recently we introduced the ability to change the amount of Energy you can spend on Heal actions up to a max of 100. This had the side-effect on mobile of pushing the numbers indicating your current Stamina allotment off the side of the screen a bit on all devices.
We released a hotfix late last night to correct this little space issue. We're always working to make our games look and function as well as possible, so if you notice anything you'd like us to take a look at, please let us know via Support or the in-game surveys we send!
Next Week's Admin Blitz Event

Next week, we'll be holding an Admin Blitz in Viking Clan! If you're around on the following date, make sure to drop by and nab some sweet cash off of some Kano folk:
Tuesday, September 29: Viking Clan server 1 @ 3:00 pm Pacific and Viking Clan server 2 @ 3:30 pm Pacific.
Frozen User Count:
4
Lame Joke of the Week:
What's orange and sounds like a parrot?
A carrot!