TGIF! Game Updates for September 16, 2022
Happy Friday, players! 
We hope everyone has been having a lovely September so far. We definitely are feeling the autumn vibes here in Victoria. There is lots to cover this week as well as a special livestream announcement below, so without further ado let's jump in. 
In-Game Events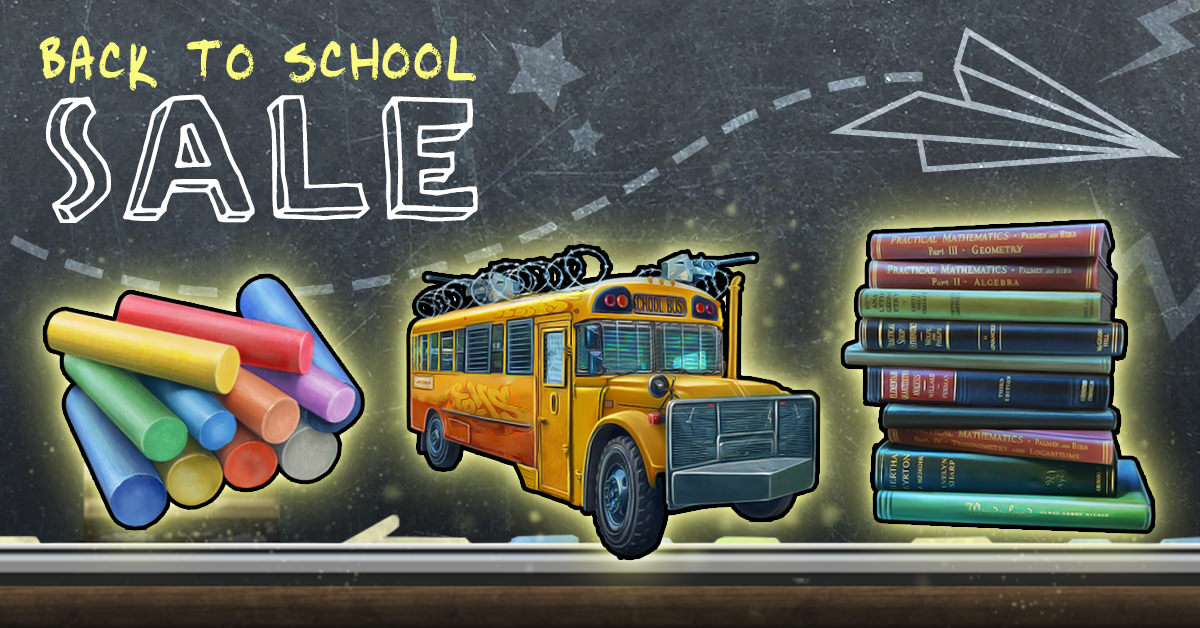 Zombie Slayer players it's September and that means the Back to School Sale has arrived for everyone! Players only have until tomorrow morning (Saturday September 17th at 9:00 AM Pacific) to get their hands on some brilliant deals and new gear. We can't recommend the School Yard Bus enough, both nostalgic and very practical for your zombie slaying needs. 

This week saw the arrival of our brand new Raid Fusion event across the Zombie Slayer servers! Along with that comes the terrifying Raid Boss, Cult of the Undeath. Call on your fellow slayers and prepare to take down this boss. Don't let this cult be the demise of you, they might be able to come back to life, but you can't!
During the Raid Fusion event, Slayers will take actions against Raid Bosses in order to earn a special new resource: Components! You'll use those Components along with item drops from this Raid Boss to fuse powerful Premium items. Every Premium item you fuse during the event will score you points on a server-wide Raid Fusion Leaderboard; the higher you finish, the better the rewards! Read up on the full details in our Raid Fusion FAQ article here:
https://kano.helpshift.com/hc/en/7-zombie-slayer/faq/608-raid-fusion/ 

We also had an introduction and walkthrough of the event on our most recent livestream! You can watch that anytime here on our YouTube channel:
https://www.youtube.com/watch?v=4SEx67FkZB4

Speaking of Raid Fusion: the Pirate Clan Raids finished up today, meaning that all competitors can now collect their Achievements and rewards by heading to their Raids page.
Listed from first place to third, the winners are:
Server 1: Aikironin EVIL, juin la sorciere de la mer, Cajon Justice
Server 2: Gypsy JoJo, Dionysus, DeathMo the Drifter 
Kongregate/Armor Server: Zzz, Zeus969, Hook Faced Groossalug
A hearty congratulations to all of our top Pirates in the Raid Fusion event! 
This week saw the release of new seasons of the Battle Pass - They are available now on Mob Wars LCN, Viking Clan and Pirate Clan. Jump in and check out all of the rewards available on both the Free and Premium tiers! 
That's not all this week, new legendary Ice Crates are available now across all 4 games (snag them while you can)! Viking Clan Guilds have their Quest event on right now, so gather your team and complete all 6 quests for loot and Favor Points. Lastly, Mob Wars LCN and Pirate Clan players your Syndicate/Armada Wars event are currently live. 
Livestream!
Surprise! For those that haven't heard yet, we will be doing a special weekend livestream tomorrow (Saturday September 17th at Noon PST). Join Matthew live as we cover what's new across all our games, and discuss next week's Raid Fusion event (coming to Mob Wars LCN this Thursday). As always, we'll be running another round of trivia where players will have a chance to earn some BONUS FP.

Save your seat by following the Mob Wars Facebook page or subscribing to our YouTube channel below:
https://www.facebook.com/mobwarslcn
or
https://mobwars.kano.link/aKa1D0nAmpb
We hope to see you there! 
Just a notice for next week as well, our Friday Discord livestream will be postponed on the 23rd of September as we will be getting together as a team here at Kano during our regularly scheduled stream. Our apologies for the inconvenience, but we will be back the following Friday at 12:00PM (PST) and there may even be a couple extra goodies for those that join. 
We have lots of really cool things planned. You can join our growing Discord community by clicking on the link here - https://discord.gg/prmJzPEXfT 
Admin Blitz Event

Next week we'll be hosting an Admin Blitz event in Mob Wars LCN! If you're around on the following date, make sure to drop by and nab some sweet cash off of some Kano folk. We love chatting with players during these events, so watch out for the group chats that get posted beforehand and remember to bump up those Admins Killed/Listed stats. We hope to see you there on:
Tuesday, September 20th - Mob Wars LCN Server 1, Server 2, and the Kongregate & Armor Server @ 3:00 pm Pacific.
# of Accounts Penalized/Suspended:
7
Lame Joke of the Week: 
What's an occasion that you only celebrate for half a minute?

Your thirty-second birthday.