TGIF! Game Updates for October 25, 2019
Happy Friday everyone!
It's getting spooky here at Kano HQ as the cobwebs have gone up and the ever-temping Halloween candies have appeared on the front desk! While we work on our costumes, we're also still hard at work improving and updating the games we all love to play.
Without further ado, let's get into what's new this past week in development news:
In Game Events!
Swooping down from 12 o'clock high, the Aces High Pilot returns to Mob Wars: LCN! This aggravating aviator is carrying some sweet loot and XP if you manage to best him in a dogfight, so grab some mobsters and take to the skies before he's gone.
A quick update from last week, the Loyalty Items will not be released this week! Sorry for the inconvenience, but rest assured we will be bringing those out to you mid next week.
Halloween Sale in Mob Wars: LCN
Halloween is a real treat! Take advantage of our Special Halloween Sale and treat yourself to exclusive deals and item bundles!
From now until October 27th at 9:00AM PST, you'll get Specialty Limited Time Items with purchases of FP Packs! Only available for 48 hours!
Log in to discover your exclusive deals!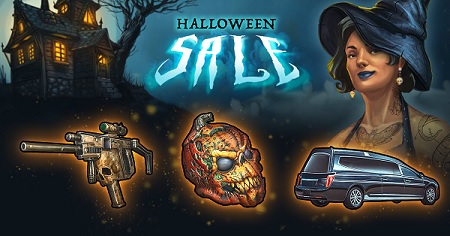 Kano vs Players Blitz Event
Next week, we'll be holding an Admin Blitz in Viking Clan! If you've around on the following date, make sure to drop by and nab some sweet gold off of some Kano folk:
Tuesday, October 29:Viking Clan server 1 @ 3:00 pm Pacific and Viking Clan server 2 @ 3:30 pm Pacific.
Upcoming Improvements to the Lottery
Very soon we're going to be doing an overhaul of the existing Lottery system. There's still a bit of time left before the system changes over, so we'll go over the finer details of what will be different closer to that date. For now, here's a quick hit of facts you'll need to know about the current Lottery system as it randomly draws itself a graceful retirement:
Friday November 1st at noon Pacific will be the LAST draw for the current Lottery format

After this, players will have until the morning of Monday November 4 to redeem their remaining tickets

The new Lottery will be released on Monday November 4, time to be announced
Frozen User Count
8
Hitlist Suspended User Count
12

Lame Joke of the Week

Why does Waldo wear a striped shirt?
Because he doesn't want to be spotted!