TGIF! Game Updates for October 18, 2019
Happy Friday everyone!
It was a shorter week for us here at Kano HQ coming off of Thanksgiving weekend, but that doesn't mean there aren't any game updates for you!
Let's get into what's new this past week in development news:
In Game Events!

The Wilder Raid Boss wants to know what yer doin' in his swamp! This fetid fiend is carrying some sweet loot and XP for you, but only if you squad up with your fellow Slayers to take him down!

Spooky new Halloween crates are now available with some frightening Legendary items! Make sure to pick up a Master three-pack for a guaranteed Legendary!
And make sure to save those Loyalty Points, new Loyalty items are being released mid next week for Mob Wars: LCN, Viking Clan and Pirate Clan!
Kano Apps Birthday Sale in Zombie Slayer
Can you believe it's been 11 years?! We couldn't have done it without you. Celebrate Kano's 11th birthday and indulge in these exclusive deals and item bundles!
From now until October 20th at 9:00 AM Pacific, you'll get Specialty Limited Time Items with purchases of FP Packs! Only available for 48 hours so take advantage of these deals while you can!
Log in to uncover your exclusive deals!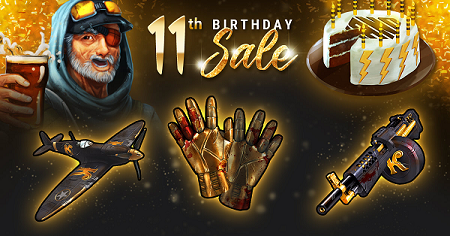 Kano vs Players Blitz Event
Next week, we'll be holding an Admin Blitz in Mob Wars: LCN! If you've around on the following date, make sure to drop by and nab some sweet cash off of some Kano folk:
Tuesday, October 22: Mob Wars: LCN server 1 @ 3:00 pm Pacific and Mob Wars: LCN server 2 @ 3:30 pm Pacific.
World Chat Updates and Walkthrough
Over the past few weeks we've made quite a few changes to the World Chat, so much so that it requires its own section!
To take advantage of all the tools and updates we've released, make sure to check out our "Chat Room - Chat Group Management" guide on the Knowledgebase and start making and managing your own Groups!
Frozen User Count
24
Hitlist Suspended User Count
6
Lame Joke of the Week

Why did Mozart kill all his chickens?
Because when he asked them who the best composer was, they'd all say "Bach bach bach"!