TGIF! Game Updates for October 1, 2021
Happy Friday everyone!
We've got events, updates and more to go over so let's get right to what's new this week in gaming news;
In-Game Events

The Autumn Sale is on now in Viking clan! Don't miss out, pick up some great deals on Favor Points and unique items!

The Guild Raid Event is happening right now in Viking Clan! Once you do enough cumulative actions on the Eldjotunn Raid Boss, you'll summon a special Raid Boss, Dellingr, just for your Guild!
If your Guild defeats the highest number of Dellingr Raids when the event ends next Friday at noon, you'll win the grand prize! There's prizes for placing in every bracket, so get in there, summon some Guild Raids, and rank on the leaderboard! 
There's a handy walkthrough you can check out on the blog if you need any tips about how this event works: https://www.kanoplay.com/blog/guild-raids-walkthrough.html

Mob Wars: LCN Syndicate Raid Event Winners

Over in Mob Wars: LCN, the first Syndicate Raids have wrapped up and you can go collect your rewards from the Boss page!
It was an exciting first event with lots of Syndicates competing to be the best. We'd like to congratulate the Syndicates who placed in the top three spots for their excellent strategy and teamwork:
Success With Honor

The Pub

FURY



Achievement Trophy Case Feature for All Games

Want to show off your rarest Achievements? With the new Trophy Case feature on desktop and mobile, now you can!

Head on over to your profile and click on the Trophy Case link or the "Customize Trophy Case" button on the panel itself (or the icons on the mobile apps). From there you'll be presented with a new page that will allow you to pick which Achievements you want to display from across all categories.
Go check it out and display your favorite accomplishments!
Improved Friend Sorting and Filtering on Mobile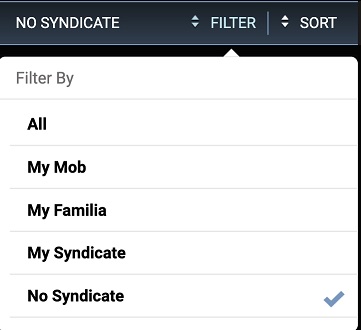 In our most recent livestream (which you can watch here: https://www.facebook.com/mobwarslcn/videos/848159052548421) during the Q&A session a player asked for a filter to be added to Friend sorting to show players you're friends with that are not in a Syndicate (or other game specific term) so they can be recruited.
We were happy to oblige and added just such an option to the game this week. Head on over to your My Mob tab to apply the above filters and get recruiting! This feature will be making its way to the desktop version soon so keep an eye out for it in a future TGIF.
If you ever have any suggestions to improve the games, make sure to let us know via Support or drop by one of our livestreams.
Next Week's Admin Blitz Event

Next week, we'll be holding an Admin Blitz in Pirate Clan! If you're around on the following date, make sure to drop by and nab some sweet cash off of some Kano folk:
Tuesday, October 5th: Pirate Clan server 1 and server 2 @ 3:00 pm Pacific
Frozen User Count:
9
Lame Joke of the Week:

What do you call sleeping livestock?
A bulldozer!