TGIF! Game Updates for March 18, 2022
Happy Friday, everyone!
We hope everyone who celebrated had a great St. Patrick's Day. The day itself may have come and gone, but our St. Pat's Day Sales are still running strong! Read below to find out which of our games is next in line to dress in green, hang the Shamrock bunting, and glow with the luck of the Irish!

In-Game Events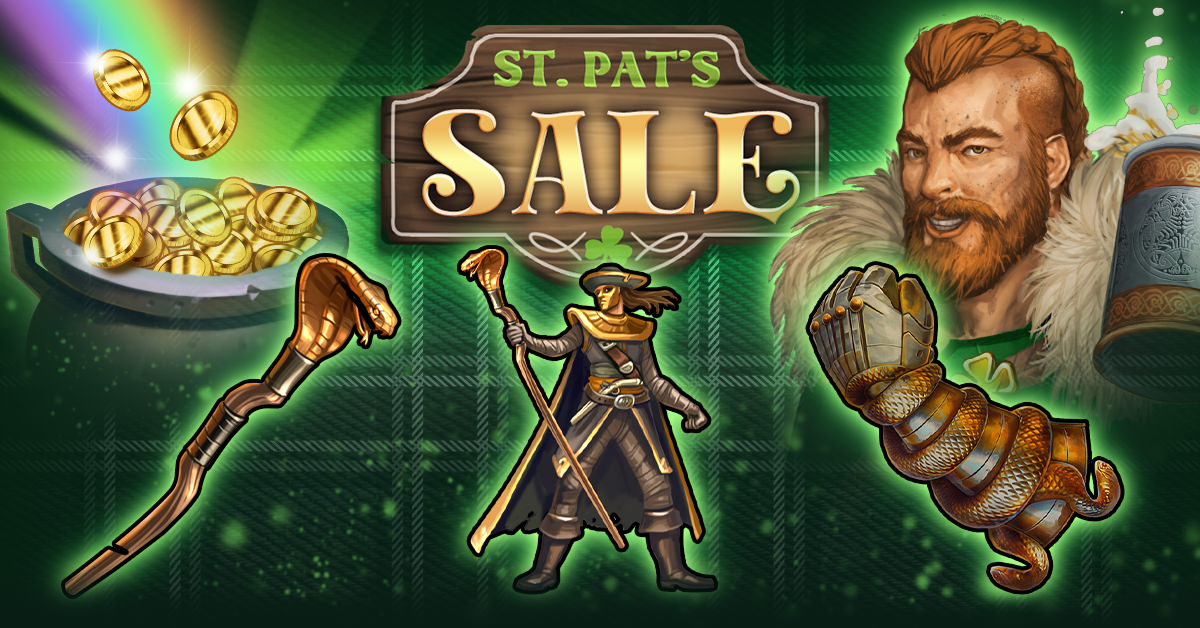 If you're in the spirit go check out our St. Pat's sale in Viking Clan! It will be running until March 19th and we've got some great deals on bundles available right now! The sale only runs for a limited time so take advantage of these deals while you still can!

The mythological beast the
Midgard Serpent
has arrived in Viking Clan! This great sea serpent won't be easy to bring down, but if you and your fellow warriors can accomplish this godly feat then vast rewards await you. 
That's not all though, the Raid Shop has returned to Viking Clan! Running now until March 25th you will earn tokens for battling the Midgard Serpent Raid Boss that can then be used for special rewards. Don't miss out on these exclusive rewards as the Raid Shop only runs for a limited time! Come check out our FAQ for more details on this event (like Raid Token Boosts) and good luck to all our Vikings - https://kano.helpshift.com/a/viking-clan/?p=all&s=raid-bosses-raid-events&f=raid-shop   
Mobile App Display Issue on Certain Samsung Devices
Some players have been encountering a persistent display issue when trying to play our mobile apps on their Samsung devices. 
We believe that this issue is being caused by a bug in a recent update to "Chromium," a program which many apps– including ours– use to scale games to fit each individual mobile screen. This issue has impacted a number of different apps across a handful of Samsung mobile devices. 
We are currently waiting to receive an update from other developers, but if you've been finding your screen is zoomed in and you're unable to see important details, we have a solution for you!
The solution requires players to revert the bugged update. For a detailed walkthrough of the fix, head to the following FAQ article and follow the step-by-step instructions:
https://kano.helpshift.com/a/mob-wars-lcn/?p=all&s=general&f=display-issue-on-samsung-mobile-devices---march-2022&l=en 
We appreciate the patience of all impacted players! 
Sharing Links on the Mobile App
Also on the mobile app front, our team has also made it easier for players to share Bosses, Raids, Player Profiles, and other in-game links on Android devices! Players can now copy in-game links and paste them into any chat group which they have access to– not just the World, Jobs, and Syndicate Chats.
iOS users can expect a similar update soon, which makes it far more simple to share Raids with a select group of friends or to distribute the profile link of a pesky Rival!
Discord Livestream Fridays!
The Player Success team will be hosting a mini livestream every Friday at Noon (pst). Come join us over on our Kano discord to chat with us, hear about updates and potentially win some great prizes! It's sort of a casual community check-in, and a great way to stay in-the-loop with our games!
You can use the following link to join our Discord community: https://discord.gg/prmJzPEXfT
Admin Blitz Update and Next Week's Event!

Just a final reminder that we recently added new stats for the Admin Blitz events for players to track! Players will now see how many Admins they've taken out as well as how many Admins they have listed. We love the support these events get from you all, so thanks for joining us each week! 
Next week, we'll be holding an Admin Blitz in Pirate Clan! If you're around on the following date, make sure to drop by, and nab some sweet cash off of some Kano folk:
Tuesday, March 22nd: Pirate Clan Server 1 and Server 2 @ 3:00 pm Pacific
Frozen User Count:
7
Lame Joke of the Week:

I've decided to sell my vacuum cleaner…
It was just collecting dust!