TGIF! Game Updates for June 24, 2022
Happy Friday, everyone!

I hope everyone has been having a wonderful summer so far. The warm weather is finally arriving for us here in Victoria BC, but that hasn't stopped the game updates from flowing fast! 
In-Game Events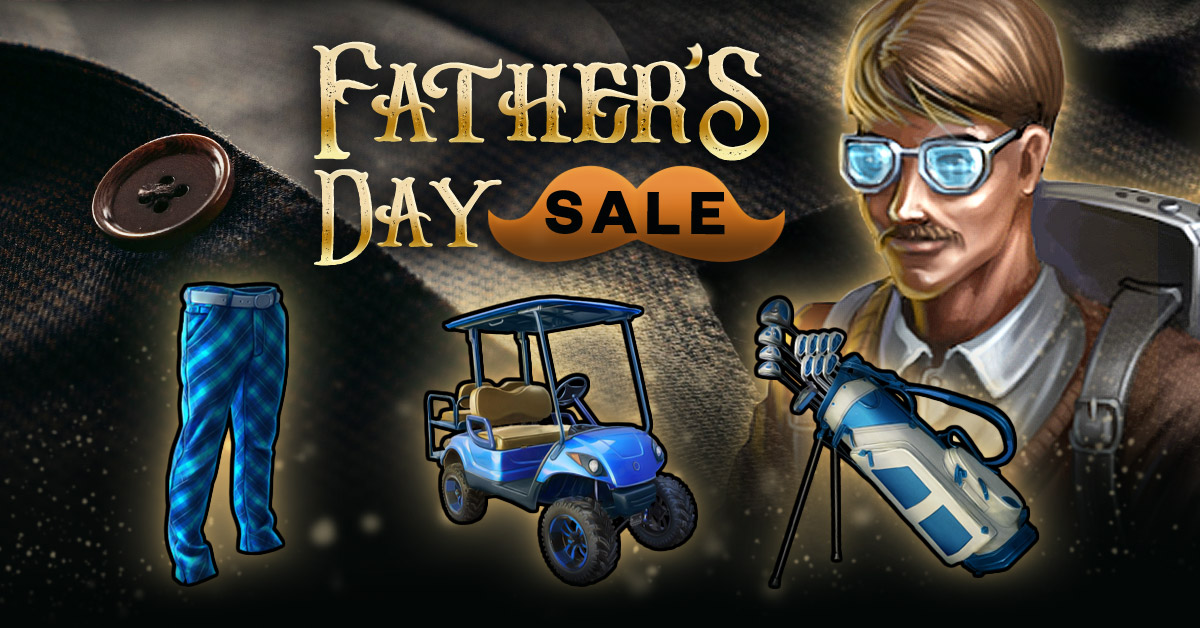 We hope our players celebrating had a wonderful Father's Day! For our Zombie Slayers, the Father's Day Sale has hit the game! There are exclusive bundles available for a limited time, with the sale ending this weekend on June 26th at 9AM Pacific. Dads Golf Clubs are a great option that will allow him to work on his swing while dealing with the undead horde.

Hop in and check out the deals while they are still available! 

Speaking of Zombie Slayer, the Undead Shark Raid Boss has resurfaced in the murky waters of the dead sea! This fierce beast is looking for anything to clamp its powerful jaws on. Do you have what it takes to survive!? Gather your party and prepare to slay this Boss in order to earn yourself some great XP and Premium-level Items! 
And speaking of Raids, Mob Wars LCN players, pre-registration is now open for the upcoming Raid Games event that is starting next week. Pick your team and prepare for a great time! 
Brand new seasons of the Battle Pass landed this past Wednesday in Mob Wars LCN, Viking Clan and Pirate Clan! Earn your Battle Pass XP and start climbing up those tiers for the best rewards. 
Today saw the release of the new Gemstone Crates, across all 4 of our games! There are some amazing legendary items to obtain and you can check those out in-game now. 
A few more updates to wrap things up, including that the Pawn Shop will be closing in Zombie Slayer, Viking Clan, and Pirate Clan on Monday June 27th. This feature was previously shut down in Mob Wars LCN and we've been slowly transitioning it out of the other three games. Just like in LCN, this change will allow our team to introduce better items into rotation more freely without needing to worry about the Favor Point balance!
Viking Clan warriors, your Guild Quest event is on now and Mob Wars LCN and Pirate Clan players both have Syndicate/Armada Wars events running. All three events finish up on Monday so good luck over the weekend, players!
Zombie Slayer Customization

This week we released customization options in Zombie Slayer! Players will start off by receiving special anniversary badges based on the amount of years played (1, 3, 5, 10). You can go to your profile to check these out and start equipping them! 
We have lots more customization planned, so keep your eyes out for continued updates.     
Livestream Next Week!
Next week we'll be hosting a Livestream on Tuesday June 28th at 1pm (Pacific). Come join the Player Success team as they dig into the new real time Hitlist update! That's not all though, during the stream we will be doing item giveaways as well as another round of our Trivia! 
The Livestream will be on our Mob Wars LCN Facebook page and YouTube page. We hope to see you all there.
YouTube - https://mobwars.kano.link/aKa1D0nAmpb 
A side note for members of the Discord, our Friday Discord Livestream will be postponed one week due to the office being closed for Canada Day. Join us the following Friday (July 8) for your chance to win free FP and bonus items! You can join our Kano Community Discord server by clicking the following link:
Admin Blitz Event

Next week we'll be hosting an Admin Blitz event in Mob Wars LCN! If you're around on the following date, make sure to drop by and nab some sweet cash off of some Kano folk. We love chatting with players during these events, so watch out for the group chats and remember to bump up those Admins Killed/Listed stats. We hope to see you there on:
Tuesday, June 28th - Mob Wars LCN Server 1 and Server 2 @ 3:00 pm Pacific.
Frozen User Count:
13
Lame Joke of the Week: 
Why are zombies never arrested? 
Because they can never be taken alive!