TGIF! Game Updates for June 10, 2022
Happy Friday, everyone!

Summer is here and June is rolling along quickly. We have lots going on in-game, so let's jump right into it! 
In-Game Events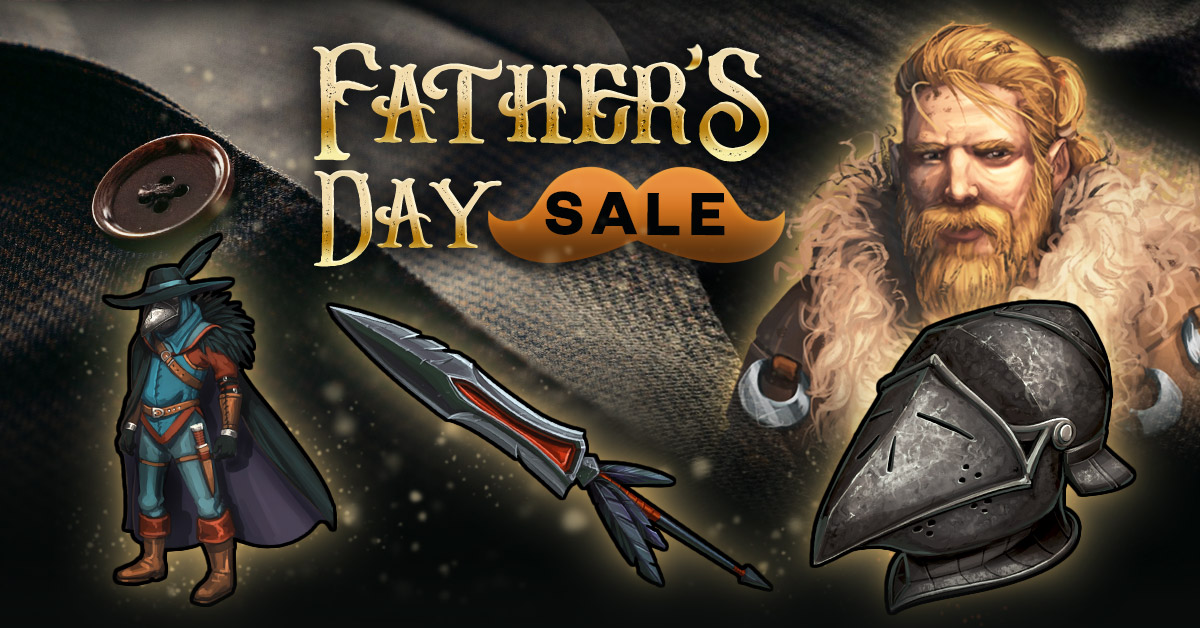 Father's Day is fast approaching and that means the Father's Day sale has landed in Viking Clan! There are exclusive bundles available for a limited time and the sale ends Saturday June 12th at 9am (PT). Grab these items while you still can! The Corvidfather Spear offers a great balance of attack and defense that is sure to please any Viking parent.

Hop in and check out the deals while they are available! 

That's not all
Viking Clan
players, this week marks the arrival of a new Raid Boss to challenge you all. The Gryphon Rider has soared into
Viking Clan
and along with it a special Mythical item to obtain! This experienced windrider or their trusted companion are not ones to be taken lightly. 
Gather your Guild and good fortunes in your battles with this boss. The loot to be earned is well worth it! 
This week we released a new update for the Hitlist to Pirate Clan and Viking Clan. The Hitlist has long needed an update and we are really excited about this one. The feature is now a truly live list for all players and we believe will also help with performance and lag concerns. This is already live in Zombie Slayer and will be coming to Mob Wars LCN by the end of the month. We'll have much more to share in an upcoming Livestream to discuss it in more depth, so we hope to see you there! 

There are a few other updates to go over in the games at the moment. Pirate Clan players recently got a new location and this week saw the release of the Co-op boss and mini-game on Wednesday. Zombie Slayers have their Faction Quest event going on now! Lastly, Mob Wars LCN and Pirate Clan players had their Syndicate/Armada Wars events start today. 
Battle Pass New Season
Final reminder that we recently released the 1-Year Anniversary Battle Passes for both Viking Clan and Pirate Clan. This Battle Pass is a special one that you don't want to miss out on!

To celebrate this, in this season's Battle Pass you'll also have access to the following:
A Special Premium reward track that is exclusive to this season of Battle Pass

You'll be able to also earn Battle Pass items from previous seasons in addition to the current items

There are exclusive Avatars only available through the Premium Reward track (and they are some of our personal favorites)

Battle Pass themed Overlay & Borders are now available on the Free Track for everyone

And for you Achievement Hunters out there, we've also got Battle Pass completion achievements (for both Free or Premium tracks) complete with Badge rewards
YouTube Update

If you've been interested in joining the community over on Discord, but are not too sure about how the platform works, well good news! We recently released a brand new episode of our LCN N' Learn series, all about Discord ~ If you're new to Discord or just setting up your account for the first time, we created an intro video to the Discord community. It's great if you want to invite any of your friends to the space and you want to give a better understanding of what Discord is like. 
Watch it here:
https://www.youtube.com/watch?v=9wdgCRIGa5Q   
Updates for Next Week
Next week the full Kano team will be gathering together for a series of meetings to plan for the rest of this year and the future. We are all very excited, but with so much planned we will have to postpone our Admin Blitz event on Tuesday June 14th for Pirate Clan players, as well as our Discord Livestream on Friday (the 17th) for one week. 
Worry not, Pirate Clan players, your event will happen 1 week later (see below for details) and our Discord Livestreams will resume as normal on June 24th. 
You can join our Kano Community Discord server by clicking the following link:
Admin Blitz Event


As mentioned above our Admin Blitz in Pirate Clan is postponed from next week to the following. Zombie Slayer's event will be going on that day as well still. If you're around on the following date, make sure to drop by, and nab some sweet coinage off of some Kano folk. We love chatting with players during these events, so watch out for the group chats and remember to bump up those Admins Killed/Listed stats. We hope to see you there on:
Tuesday, June 21st - Pirate Clan Server 1 and Server 2 @ 3:00 pm Pacific
&
Tuesday, June 21st - Zombie Slayer Server 1 and Server 2 @ 3:30 pm Pacific
Frozen User Count:
11
Lame Joke of the Week: 
How did the Vikings send secret messages? 
Norse Code!