TGIF! Game Updates for July 22, 2022
Happy Friday, everyone!

The Summer Raid Games and Blitz Week may be wrapping up shortly, but the summer heat is just getting started! Throw on your shades, slather on some SPF 45, and check out what's hot in the Kanoverse this week:
In-Game Events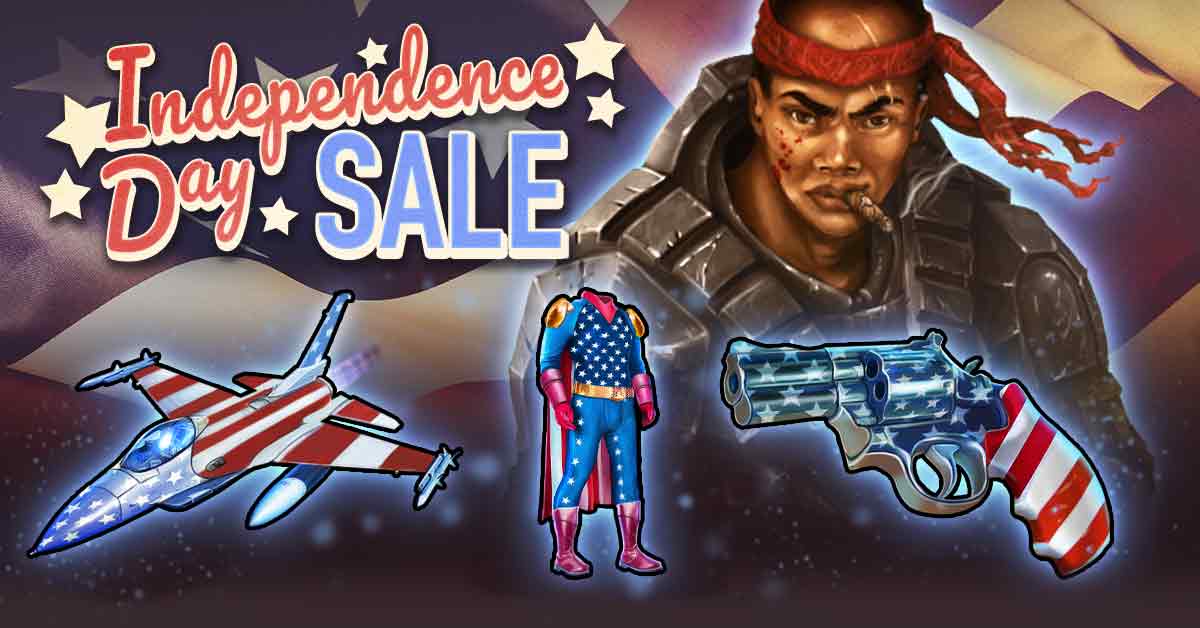 The Independence Day Sale has arrived in Zombie Slayer! The sale will be running until tomorrow Saturday July 23rd at 9AM Pacific. There are exclusive bundles available now, so jump in and check them out! The Independence Costume will boost your strength and show off your pride. 

You thought you'd be safe from the zombie apocalypse up in the clouds, but think again. The Aces High Zombie Raid Boss has barrel rolled back into Zombie Slayer this weekend! The Summer Raid Games event comes with it, so dive into cover and good luck in the competition.  

In Zombie Slayer, join a team and take down as many Aces High Zombie Raid Bosses as you can; any actions done will help your team to progress through the tiers. There are a ton of rewards to earn during the event and if you need a refresher on how it works, you can read up on the rules here:
https://kano.helpshift.com/hc/en/7-zombie-slayer/faq/356-raid-games/?p=all 


Our last note on the Summer Raid Games this week: congratulations to the Red Team in Pirate Clan! It turned out to be a very close race with Blue and Purple right at your heels, so well done on closing it out early with the victory! Great work by all the teams that participated; if you head over to the in-game Raid page now you can collect your rewards and Achievements for your placement. 
Attention, Mob Wars LCN players! Next week you'll see the return of the Raid Shop event with your Raid Boss. We hope you look forward to it!  
We have many other events going on in our games at the moment, including a brand new season of the Battle Pass in Mob Wars LCN, Viking Clan and Pirate Clan. There are lots of new rewards to earn, so get started on those challenges today! Meanwhile the Guild Quests event is on now for Viking Clan players and both Mob Wars LCN and Pirate Clan have their Syndicate/Armada Wars running over the weekend! 
Livestream Updates!

Next week we'll be hosting a livestream to our Facebook and Youtube pages. There may even be a special guest joining us. We'll have more details to share next early next week, so keep an eye on the News Feed and our Discord. Speaking of Discord…
Next Friday the 29th (at noon Pacific) the Player Success team will be bringing you another livestream hangout over on our Discord! We'll be going over some weekly highlights as well as spinning the wheel for Favor Points and item giveaways! 
You can join our Discord community by clicking on the link here - https://discord.gg/prmJzPEXfT 
If you need a refresher/introduction to Discord, we recommend our video here - https://tinyurl.com/mwevv9pf 
Admin Blitz Event

Next week we'll be hosting an Admin Blitz event in Mob Wars LCN! If you're around on the following date, make sure to drop by and nab some sweet cash off of some Kano folk. We love chatting with players during these events, so watch out for the group chats and remember to bump up those Admins Killed/Listed stats. We hope to see you there on:
Tuesday, July 26th - Mob Wars LCN Server 1 and Server 2 @ 3:00 pm Pacific.
Frozen User Count:
16
Lame Joke of the Week: 
Why can't a leopard hide? 
He's always spotted!