TGIF! Game Updates for January 29, 2021
Happy Friday all! Winter Raid Games season is in full swing, and we've got a Bounty Blitz Week on the horizon as well. Read on to find out what's happening right now and what's coming up for the games.
In-Game Events
Congratulations to the Green Team for winning the Winter Raid Games! The placement achievements are available now, so be sure to check out what your team got.
For the winning team, the exclusive Chat Color will be equippable from the Shop tab. This is a new Chat Color for the first place team, and doesn't grant you a preexisting color.

Blackbeard's fearsome flagship Raid Boss, the Queen Anne's Revenge, sets sail this week and brings the Winter Raid Games along with it! Coordinate with your team to pass all of the checkpoints first and take home the grand prize!
Zombie Slayer, your Winter Raid Games event will be going down next week. Pre-registration begins on Monday, February 1st at noon pacific.

Pirate Clan, get the year started off right by picking up a great deal in the New Years Sale, on for a limited time!
Bounty Blitz Week Next Week!
Bounty Blitz Week will kick off on Monday, February 1st! During Blitz Week every game will get additional Blitzes every day, unless it would interfere with a preexisting event like Raid Bosses.
Get your Cash and Coin ready!
Mobile Alert Settings Update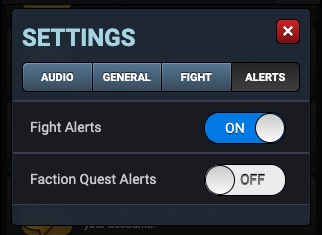 A quick update for our mobile players: with this week's update we introduced a new panel in the Settings menu that will allow you to toggle Notifications for some features of the app. Make sure to check out the panel and let us know what you think!
Speaking of notifications, PVP Alerts will now show in the game header when you have been attacked by another player. Clicking (touching?) on this notification will bring you to their profile.
Next Week's Admin Blitz Event

Next week, we'll be holding an Admin Blitz in Zombie Slayer! If you're around on the following date, make sure to drop by and nab some sweet cash off of some Kano folk:
Tuesday, February 2: Pirate Clan server 1 @ 12:00 pm Pacific and Pirate Clan server 2 @ 12:30 pm Pacific.
Frozen User Count:
10
Lame Joke of the Week:


I sold my vacuum the other day...
All it was doing was collecting dust!