TGIF! Game Updates for January 20, 2023
Happy Friday, players!
We hope you've been staying warm during the chilly months of winter. However, if you're in the southern hemisphere then we hope summer has been rad! The team at Kano has been busy planning out our 2023 and we can't wait to share more details with you. Let's start with this week's TGIF! 

In-Game Events

Viking Clan is under assault! The ancient Norse entity Eldjotunn has marked their arrival with fire and death. This supernatural being plans to lay waste to everyone in Viking Clan, so it'll be up to the strongest Vikings to take them down. 
The Raid Games have also returned to Viking Clan and you may notice a few changes to the event! Every action (attack and healing) you take against Eldjotunn will still contribute to your team's progress bar, and as your team completes checkpoints you will all earn special items. However, in this version of Raid Games the Gold Medal Achievement is no longer awarded to the first team to reach the final checkpoint! Instead, whichever team has the most actions at the end of the Raid Games will be declared the victor. For more info on the event check out our FAQ here: https://support.kanoplay.com/hc/en/6-viking-clan/faq/355-raid-games-2-0-updated-jan-2023/?p=all   
For Pirate Clan players, team pre-registration is now available for your upcoming Raid Games event. Mob Wars LCN combatants, your Raid Games collection begins today at noon.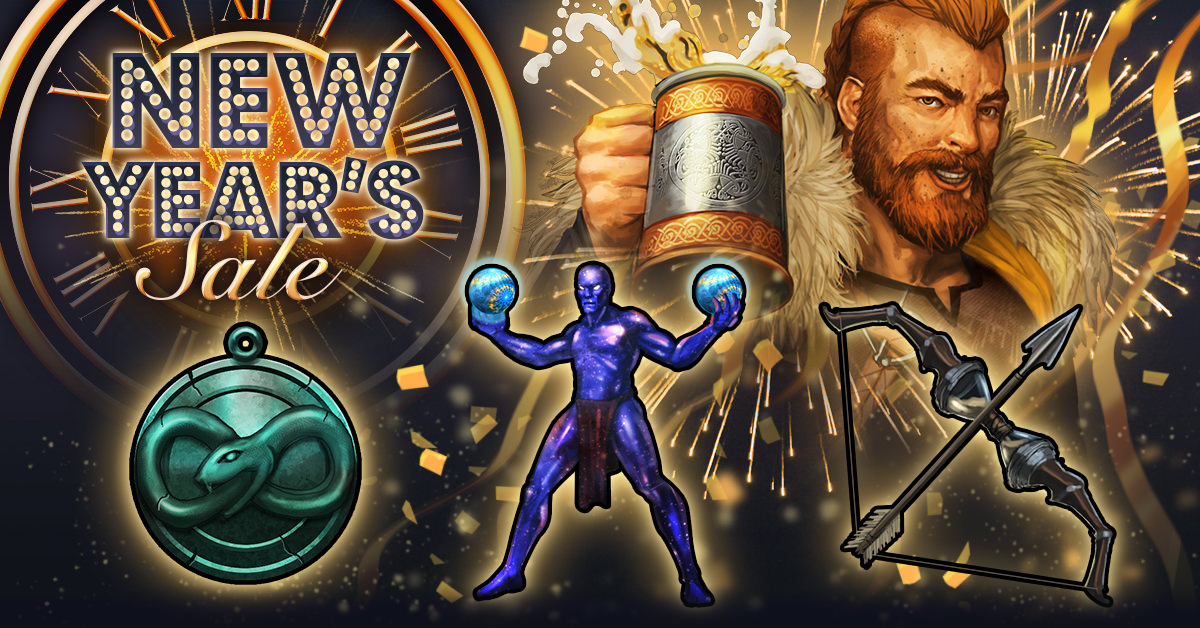 Viking Clan players, to top off your busy weekend of battling ancient Norse warriors you can now check out the New Years Sale! It is running now in-game and will be available until tomorrow Saturday Jan 21st at 9am (PST). There are some great exclusive bundles on sale and we recommend the Chrono Trinket weapon to give you that extra boost of strength for all your upcoming battles. 
Zombie Slayer players, your Faction Quest event is on now. Work with your teammates to finish all six quests and earn yourself Loot Cases. Reminder that the Medium and Hard Loot Cases will reward UN Credits based on contribution. 
If you caught our end of year Livestream you may have heard about a new release coming soon, Prestige Locations…well that is all I'll say about that for now, but stay tuned for much more!
Finally for in-game updates, Pirate Clan and Mob Wars LCN have their Armada/Syndicate Wars events today. PC is on now and LCN begins later at 4pm. Work with your team to finish strong and get the best rewards you can!

General Updates
On Wednesday January 25th we have some planned maintenance for the Hitlist. This means that the Hitlist will be temporarily unavailable for 1 hour from 10am (PST) to 11am (PST). Below is an image of what it will look like during that period.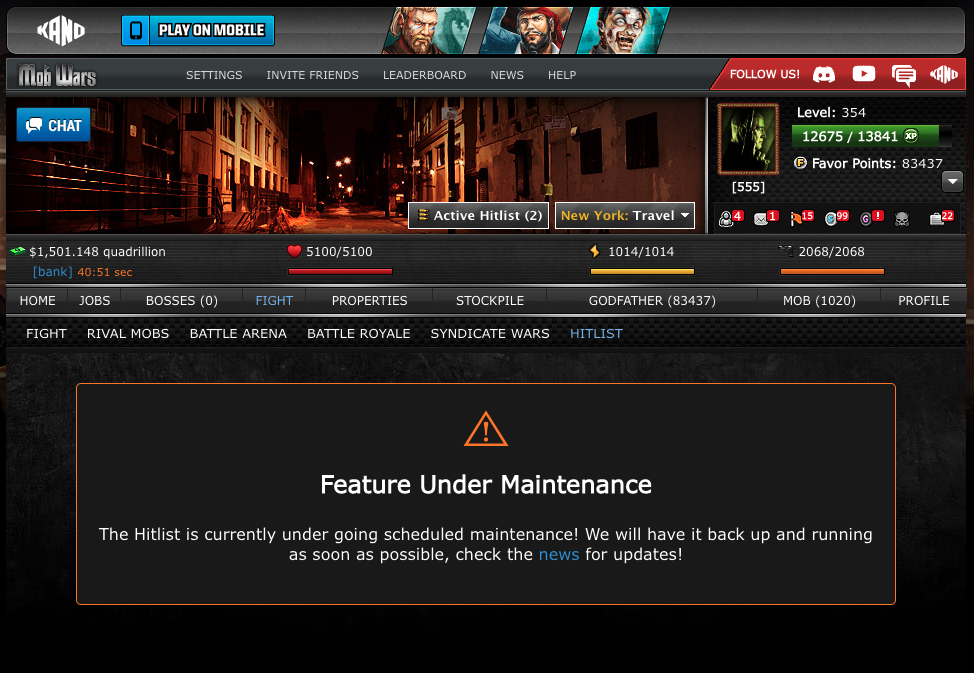 Next week we will be hosting our weekly Discord livestream on Friday Jan 27th at 12pm (PST). It is a great place to hangout with the Player Success team, fellow players, get game updates and potentially win one of our giveaways! 
Join our Discord here - https://discord.gg/prmJzPEXfT 
Admin Blitz Event

Next week join us for the Admin Blitz event in Pirate Clan! If you're around on the following date, make sure to drop by & nab some sweet coin off of some Kano folk. Watch out for the group chats that get posted beforehand and remember to bump up those Admins Killed and Listed stats. 
Admin Blitz events will now also have a special Kano item giveaway, so don't miss out! We hope to see you there on: 
Tuesday, January 24th - Pirate Clan Server 1, Server 2, and the Kongregate & Armor Servers @ 3:00 PM (PST).
# of Accounts Penalized/Suspended
:
29
Lame Joke of the Week:
How did Vikings send secret messages? 
Norse Code!