TGIF! Game Updates for February 18, 2022
Happy Friday everyone!
We hope you've been having a great February so far. Just a notice that this Monday in B.C. is a holiday and there may be a slight increase in wait times on ticket replies. Let's jump into this week's updates!
In-Game Events
Running right now until February 19th, Viking Clan players can check out the Valentine's Day sale! There are great deals available on a variety of bundles, as well as a 75% discount on World Chat colors! 

Gather your Clan because the Raid Boss Disir has made their return to Viking Clan! This ancient spirit will take a lot of teamwork to bring down, however the rewards will be worth the challenge. On top of the regular item drops this Raid Boss has a chance at dropping a Premium item. Good luck to everyone!
But that's not all, the Piggy Bank will also be running in Viking Clan until next Friday, February 25th at noon Pacific Time. Remember to break that bank once it fills up to collect your free Favor Points!

Finishing off the release of the new Viking Clan location the Lair of Surtr, crafting is now available. 
Battle Royale Update
On Wednesday, we announced some significant changes to the Battle Royale Feature.
Primarily, we've switched back to Stamina SlugFest due to player demand. Players will start with 5 Med Kits instead of only 1 - this means longer matches, so get those fingers warmed up!
We have also adjusted how the Stamina buy-in works. Going forward, players will need to risk a certain % of their max Stamina to qualify for Loot Cases. If you wager 10-49%, you'll qualify for a Battle Royale Bronze Case. 50-74% will qualify you for a Battle Royale Silver Case, and 75-100% will qualify you for the Battle Royale Gold Case, which may contain some incredible loot, including a Legendary Item!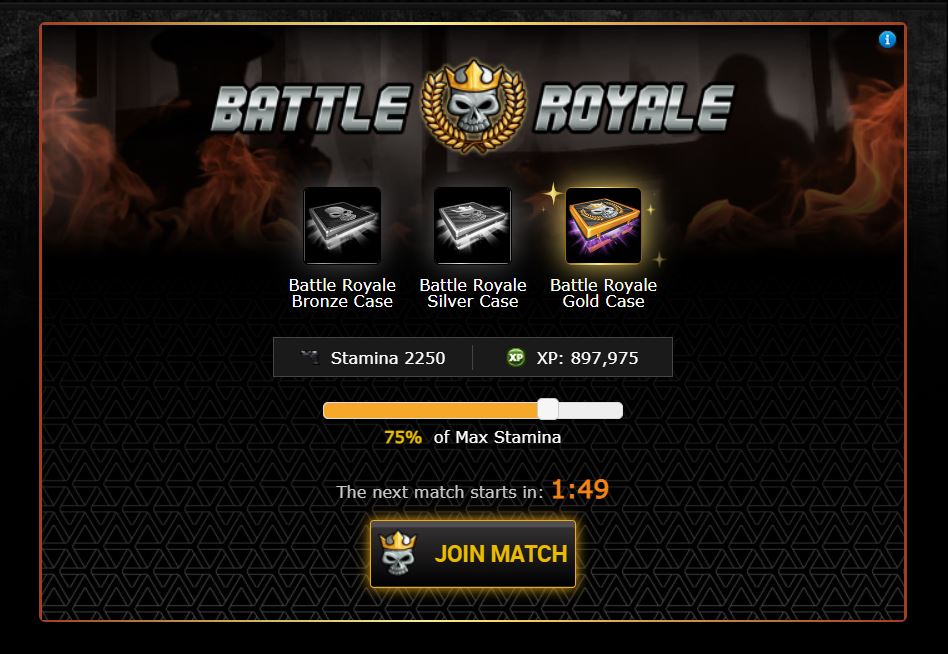 Total Stamina wagered will still impact the amount of XP you can gain, same as before. However, we did have to adjust the amount of XP earned in Battle Royale matches, in particular for those that didn't place highly in a match.
We feel this change was necessary to ensure the growth and economy of our game remained under control. We discovered too many players were buying into Battle Royale with 1 Stamina, qualifying for lootcases and gaining XP/items with minimal investment. As a result, we had to put very poor items in the Loot Cases. Going forward, we feel the Stamina investment players will wager will justify the superior items in Loot Cases, and ensure the rest of the game won't be disrupted due to an imbalance in this feature. 
We welcome your feedback in regards to these changes. We will be monitoring the participation in Battle Royale and see if we need to make any further changes. 
Mobile App Boss Helper Update
This week we released an update to the mobile app to help improve the functionality of setting your Co-op Bosses min/max helper damage. 
We've now added a press and hold input for that task to speed up the process for players. Thank you to the players who wrote in and shared their feedback around this! 
Discord Livestream!
This past week Henry hosted our first ever Discord livestream. A big thanks to everyone who joined us for updates on the games and prize giveaways! We'll be hosting another one soon, so come check out our Kano Discord community here:
https://discord.gg/Ey8nDtsgmU

It's a great place to stay in the loop regarding upcoming game events, connect with the Kano Admin, chat with other players, and more.
Next Week's Admin Blitz Event

Next week, we'll be holding an Admin Blitz in Pirate Clan! If you're around on the following date, make sure to drop by, and nab some sweet cash off of some Kano folk:
Tuesday, February 22nd: Pirate Clan Server 1 and Server 2 @ 3:00 pm Pacific
Join the Kano Player Success Team on our Discord server during the Admin Blitz to chat with us live while catching our bounties!
Frozen User Count:
9
Lame Joke of the Week:

What's the slowest action movie of all time? 
Turtle Recall