TGIF! Game Updates for December 13, 2019
Happy Friday everyone!
Here we are with the last TGIF of 2019. There's still another week to go until the Christmas break proper, but with the holidays ramping up here and elsewhere this will be our final missive for the year.
Before we jump into what's new this past week, a quick note about the Holiday season. While we will be taking some time off to enjoy the break and spend time with our families and loved ones, we'll be monitoring the games to make sure everything still runs smoothly. If any issues do come up, we'll be on top of it. Have a great Holiday season and a Happy New Year!
With that covered, let's get to what's up this past week in development news:
In Game Events!

Sailing in on his zombie-proof aircraft carrier, Commander Claus is back to bring holiday cheer to the good and bad Slayers all over the world! 
Commander Claus brings with him some updated 2019 Holiday Loot Cases if you can best his challenge by defeating enough Raids over the event. 
For more information on this event, check the walkthrough here: https://forums.kanoapps.com/threads/holiday-raid-walkthrough-2019.36826/
Pirate Clan, you can go and collect your 2019 Holiday Loot Cases right now if you haven't already.
New Holiday Crates and Chat Name Colors!
New Holiday themed Crates are now available! Pick up a Master three pack for a *guaranteed* Legendary Holiday item!

As a Holiday gift to all players, you can now equip a seasonal Chat name color for free through the rest of December. Head on over to the Shop tab to check out the candy-cane design and Happy Holidays!
Mob Wars: LCN 10th Anniversary Achievements!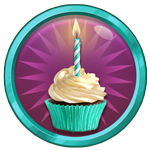 Happy 10th birthday to Mob Was: LCN, which celebrated building criminal empires for over a decade this week on December 12th!
As thanks for playing the game for so many years, we've added anniversary achievements to Mob Wars: LCN for having an account that is 1, 3, 5 or 10 years old! Log in if you haven't already to see what you've unlocked.
Super Rewards Shutdown
As a head's up to our players on Kano Play and Armor Games, we received word that Super Rewards has shut down. Unfortunately this announcement from Super Rewards has caught us a bit off-guard and we don't have any plans to replace them with another provider at this time. 
We'll update you as soon as that changes and in the meantime if you have any questions or concerns, please contact us in Support.
Next Week's Admin Blitz Event

Next week, we'll be holding an Admin Blitz in Mob Wars: LCN! If you're around on the following date, make sure to drop by and nab some sweet cash off of some Kano folk:
Tuesday, December 10: Mob Wars: LCN server 1 @ 3:00 pm Pacific and Mob Wars: LCN server 2 @ 3:30 pm Pacific.
Frozen User Count
5
Lame Joke of the Week
What do you get if you eat Christmas decorations?
Tinsillitis!