TGIF! Game Updates for October 4, 2019
Happy Friday everyone!
As this year continues to careen towards its close and Kano celebrates its 11th year running this month, we've been working on making changes and updates to the games. Let's go over what's new this past week in game updates:
In Game Events!

Fiery footsteps herald the arrival of the Eldjötunn! This towering, living inferno is no push over, so gather your Clan and and take it on for a chance at some sweet loot!
Kano Apps Birthday Sale in Viking Clan
Can you believe it's been 11 years?! We couldn't have done it without you. Celebrate Kano's 11th birthday and indulge in these exclusive deals and item bundles!
From now until October 6th at 9:00 AM PST, you'll get Specialty Limited Time Items with purchases of FP Packs! Only available for 48 hours so take advantage of these deals while you can!
Log in to uncover your exclusive deals!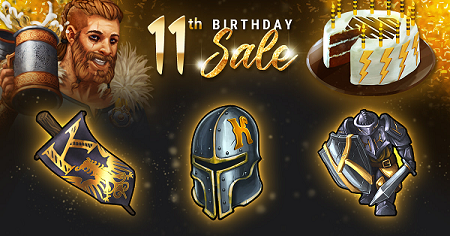 Syndicate Quest Changes
Syndicate Quests are on the docket for next Thursday and one point of feedback we've gotten about the Quests is that some of the Item drops you get from the ending Loot Cases are well, kind of old.
We couldn't agree more, so we've made brand new Syndicate Quest cases for you to earn with a new selection of items in them! Hopefully these drops will be more to your liking.
If you want to earn these sweet new Cases, make sure to recruit more members for your Syndicate or join a larger one to help knock out some of the more difficult Quests.
Battle Royale Returns Next Week!
After another exciting playthrough this past week, we're giving Battle Royale a bit of a breather before our next event. Worry not though, it won't be long until you're mixing it up again as we're planning on running our next session on Wednesday, October 9th.
We're going to continue to make changes to some of the rules of Battle Royale to keep it fresh and to also find the optimal mix of settings. Based on the results of last round, here are the changes for next week's Battle Royale:
50 players
5 FP buy-in
1,000 health up from 500
Top 5 players win FP payouts

Desktop Hitlist Placement and Chat Group Changes

In case you missed last week's TGIF (here!) we made a couple adjustments to the above features earlier this week. The Hitlist/Bounty link is now on the right side of the Fight subscreen near where the attack button shows up, and Chat Group owners can now assign Officers and moderate their Groups more effectively!

We did run into a couple hiccups where a small number of Chat Groups were unable to assign Officers and remove players; this has since been fixed, but if you run into any issues with your Group(s) please let us know via Support!

Frozen User Count

4

Hitlist Suspended User Count

18

Lame Joke of the Week

What do you call a fish with two knees?
A tunee fish!