TGIF! Game Updates for August 19, 2022
Happy Friday, players!

No matter which game(s) you play, we've got a jam-packed weekend coming up for you! So don't forget to drink water and let's jump right into it! 
In-Game Events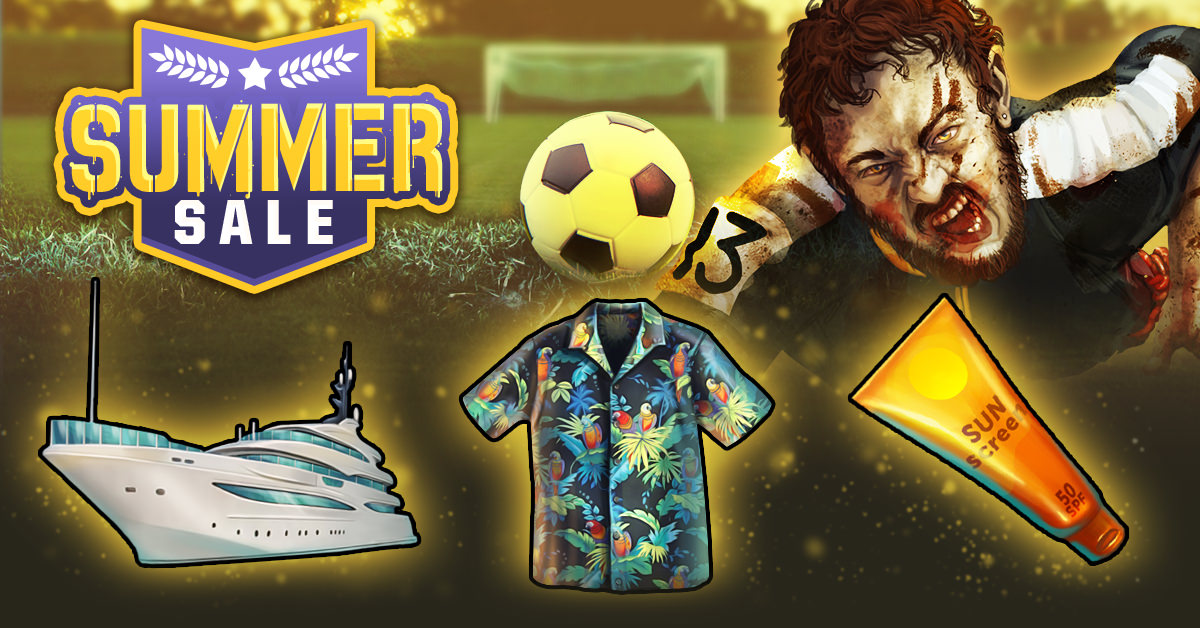 Zombie Slayer players, make sure the coast is clear and then run on over to check out your Summer Sale! These exclusive offers won't be around long as the sale is set to end tomorrow on Saturday August 20th at 9AM (PDT). Grabbing some Summer Sunscreen to fill out your loadout is always a good idea when hunting zombies in the hot sun. 

Watch out…as she roams the park with her little terrors, the Stroller Mom Raid Boss has returned to Zombie Slayer! You'll need every slayer available to take down this ferocious family.
Alongside the menacing Stroller Mom comes another round of the Raid Shop! While the event is active, players will earn special Raid Tokens for doing any actions against Raid Bosses. They will then have the opportunity to spend those Raid Tokens in the Raid Shop for event-specific items and Loot Cases! Our handy FAQ page has more details on how the event works if you need a refresher - https://kano.helpshift.com/hc/en/7-zombie-slayer/faq/547-raid-shop/   

New seasons of the Battle Pass arrived this week in Mob Wars LCN, Viking Clan and Pirate Clan! Brand new rewards are available on both the Free and Premium tiers, so start completing those challenges today! Be sure to check out the new character customization options – will you be Team Cat or Team Dog?
That's not all, Viking Clan players have their Guild Quests running now and continuing all weekend! Group up with your Guild to complete your 6 quests and earn special Loot Chests. Both Mob Wars LCN and Pirate Clan gamers have their Syndicate/Armada Wars events on now!  Don't forget, we also have brand new Legendary Stone Crates available in all 4 games! 

Lastly, we've got a special Weekend Calendar available across all of our games. This Vacation Calendar is live and each time you clear the Calendar, you'll earn a new and powerful item. Start today in order to complete it three times and collect the full set!
Discord Livestream Friday!
Next Friday, August 26th (at noon PST), the Player Success team will be bringing you another livestream hangout over on our Discord! We'll be going over some weekly highlights as well as giving away an exclusive item and spinning the wheel for chances at winning Favor Points!
You can join our Discord community by clicking on the link here - https://discord.gg/prmJzPEXfT 
If you need a refresher/introduction to Discord, we recommend our video here - https://tinyurl.com/mwevv9pf 
Admin Blitz Event

Next week we'll be hosting an Admin Blitz event in Mob Wars LCN! If you're around on the following date, make sure to drop by and nab some sweet cash off of some Kano folk. We love chatting with players during these events, so watch out for the group chats that get posted beforehand and remember to bump up those Admins Killed/Listed stats. We hope to see you there on:
Tuesday, August 23rd - Mob Wars LCN Server 1 and Server 2 @ 3:00 pm Pacific.
# of Accounts Penalized/Suspended:
13
Lame Joke of the Week: 
What did the buffalo say to his son when he left for college? 
Bison!